<!–– Copied from minima 2.5.1. ––>
Watir ad at stackoverflow.com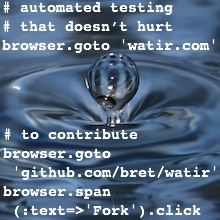 New round of free advertising of open source projects at stackoverflow.com has just started.
We had 17 votes the last time, 6 were needed to be displayed at stackoverflow.com. The ad got a few complaints about not having any text. (I just copied our logo.)
This time I took a Creative Commons photo and added some text:
Feel free to vote or comment for Watir ad at stackoverflow.com.
If anybody has an idea for different photo or text, please let me know.
Even better, read the stackoverflow.com blog post, create an add and submit it. Then let us know so we can vote for it. (There can be more that one proposal.)